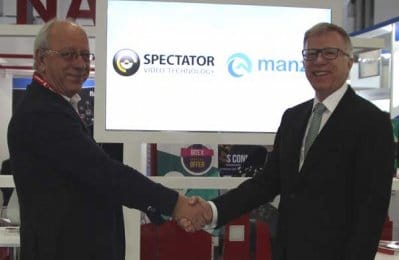 Manzil Healthcare Services revolutionizes its Healthcare services
Dubai, UAE
---
Manzil Healthcare Services revolutionizes its Healthcare services by launching secure video connected home health facilities with a global partner

Manzil Healthcare Services, the leading homecare medical service provider in the UAE, in collaboration with Spectator Video Technology, introduces technologically-advanced Healthcare services at GITEX 2018 – one of the biggest technology shows in the region, held from 14th to 18th October 2018 at Dubai World Trade Centre, Dubai.
Manzil is the first company in the Middle East region, to enhance its Healthcare services with Spectator's state-of-the-art eHealth, mobile Care and Tele-medicine platform for remote Primary Care, Chronic Care and Elderly Care services.
Spectator Middle East, the regional arm of Spectator Video Technology – Netherlands, is the only exhibitor showcasing its innovative remote and integrated Healthcare solutions in one secure platform, including a range of video and other data communication technologies via mobile devices, such as smartphones and tablets. Spectator has been providing platform-based video communication technology for remote care solutions since 2004.
The first phase of Spectator technology adoption by Manzil will include introduction of remote eHealth and Tele-medicine services for Chronic Care and Elderly Care services, and video consultation to patients as part of Disease Management, Assala program and Home Care services. This will be followed by advanced ambulance services, based on Personal Medical Alarm Systems with Fall Detection feature.
The second phase technology adoption will be focused on introducing remote 24/7 Primary Care services for patients across UAE.
Commenting on the announcement, Dr. Sarper Tanli, Group CEO of Manzil Healthcare Services said: "As the Healthcare sector in the region transforming, we are happy to take such a remarkable leap in the Healthcare technology solution with Spectator Video Technology. GITEX is a great platform to announce our partnership with Spectator and emphasise on our commitment of providing superior technologically advanced Healthcare services to the people of UAE."
Dr. Frans Hermes, Managing Director at Spectator Video Technology said: "We are delighted to be associated with Manzil Healthcare Services, one of the leading providers of homecare services in the UAE. Through this collaboration, we are looking forward to support Manzil Healthcare Services by providing sustainable Healthcare technology and solutions to improve Quality-of-Life and Healthcare access to all persons."
Manzil Healthcare Services, by adopting these cutting-edge call centre based remote medical services from Spectator Video Technology, is expecting to increase its market share to at least 20% by the end of next year.