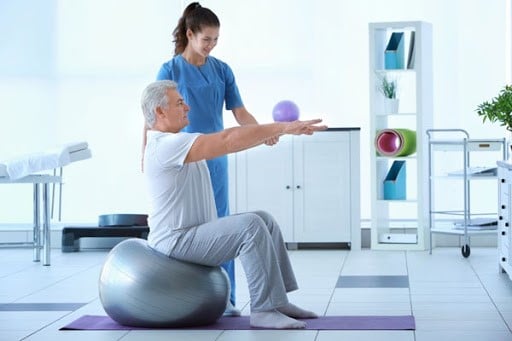 7 Reasons To Start Physiotherapy
Physiotherapy is an effective physical therapy method providing relief to patients with various medical conditions. Its benefits are a reason enough to start with it:
It is used to treat a number of medical conditions (multiple sclerosis, stroke, cerebral palsy..)
Eases and manages pain
Treats muscle and bone injuries
Enhances balance and coordination
Read more about physiotherapy benefits here
So, physiotherapy can enhance your treatment and recovery journey. If you're still undecided, read our 7 reasons to start physiotherapy now.
7 Reasons To Start Physiotherapy
1. To Improve Posture
Posture is a crucial component of a person's well being. Most people overlook the importance of having a correct sitting and standing position, which often leads them to pain in the neck, back and pelvis.
If you are concerned about your posture and think that it's a little crooked, physiotherapy can help you fix that. As a result, it can also help you with your posture and alignment.
2. To Improve Flexibility
Poor muscle coordination and flexibility are 2 common reasons for muscular pain and discomfort, especially after rounds of physical training.
Physiotherapy is an effective way to enhance flexibility and improve muscle coordination.
3. To Fix Muscle Imbalances
Muscle imbalances may feel painless at first, but can become quite painful over time.
If left untreated, repetitive muscle movements can lead to imbalance and cause discomfort.
Physiotherapists can access any set of muscles in the body, allowing them to treat any muscle-related issue.
4. To Improve Post-Surgical Outcomes
Post-operative healing can be time-consuming. Doctors recommend surgical patients to be on bed rest for a while. However, this can lead to muscle weakness.
This is where physiotherapy can help. A physiotherapist can help patients regain muscle balance and improve coordination in the body.
5. To Manage Pain
A person can experience various types of pain. It can either be acute or chronic pain.
Acute pain is:
Short term
Sudden
Typically quite sharp
Occurs after an injury or trauma
Chronic pain is:
Long term
Persistent
Usually lasts for more than 6 months
So, a physiotherapist can assess the type of pain and develop a treatment plan accordingly.
6. To Treat Bone Injuries
The lack of movement during bone injuries can lead to muscle weakness. Also, the healing time of bone injuries is quite long.
Yet, physiotherapy can help patients in regaining mobility and muscle control.
7. To Treat Incontinence
Many men and women can experience some degree of incontinence ( lack of control in urination) in old age.
While a lot of people believe that it can't be treated, the reality is different. So, incontinence can be managed with pelvic physiotherapy.
Physiotherapists are trained to identify the cause of incontinence and develop a treatment plan.
To Wrap Up
We hope these 7 reasons to start physiotherapy helped you decide on your treatment method.
If you have any of the mentioned healthcare concerns, you should consider visiting a physiotherapist and start your treatment as soon as you can.
Not only will physiotherapy reduce your symptoms, but will also enhance your wellbeing.
Don't Miss Out!
Not only does physiotherapy help in restoring muscle strength and balance, it can also be done at the comfort of your own home! To know more, read our blog.
For more information about our Physiotherapy Program, call us now on 800 626 945