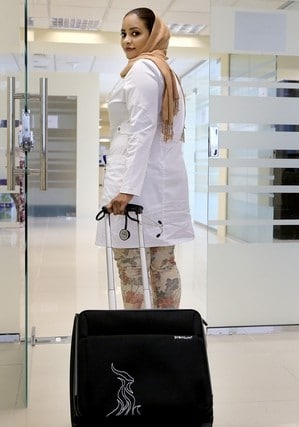 Dial a doctor: Abu Dhabi service to help those too ill to leave home
ABU DHABI: Too ill to go work but don't want to go to a hospital or clinic for a sick note?If so, there is a service in Abu Dhabi that enables the bedridden to call a doctor for a visit.
If you have really bad flu you can call our number and get the GP to come to your house, instead of having to get out of bed and line up at the hospital or medical centre, said Ann Viken, managing director of Manzil Health Care Services, the company behind Doctor at Home

Often you are really sick but maybe it is obvious it is the flu. You know it will pass after a few days with some cold and flu tablets, but you still need to go to a doctor to get a sick certificate." Doctors licensed by the Health Authority Abu Dhabi will visit and issue a prescription or a certificate for short-term sick leave.
The visit costs Dh500 and the sick certificate an additional Dh50. It is for anyone who is sick and prefers to stay in bed and not take themselves to a hospital or medical centre, said Ms Viken. We developed the concept remembering our own childhood doctor, who did home visits when we were sick as kids.
While the service, operating in Abu Dhabi and Al Ain between Sunday and Thursdays, is only for non-emergencies, it will help to prevent unnecessary emergency room visits, she said. Doctors have complained that hospital emergency rooms are often clogged by patients with minor ailments such as headaches, flu and muscular pains, who should have visited a general practitioner.
The home visits are not covered by insurance but a patient can submit a claim to their insurer and be reimbursed under some plans, said Ms Viken. She said Manzil Health Care Services was eventually hoping to expand the service to other emirates.
Our doctor at home service provides non-emergent care in a relaxed environment allowing the patient to avoid exertion and stress associated with visiting a medical facility, said Dr Hiba Fadul, a GP licensed under the programme.
The Doctor at Home is just one of several home health services to be offered. A similar Physio at Home programme is operating, while a Diabetes@Home and a Mother and Baby programme should be introduced by the end of the year.
The National