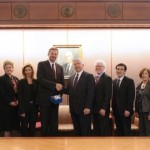 Manzil Health Care Services will enhance diabetes disease management programs in alliance with Joslin Diabetes Center
Joslin Diabetes Center will work with TVM Capital Healthcare Partners' portfolio companies to offer regional expertise and training in the field of diabetes care.
Dubai/Boston, March17 2014: TVM Capital Healthcare Partners, the region's first private equity firm dedicated exclusively to the healthcare sector, has signed an affiliation with Joslin Diabetes Center. Located in Boston, Massachusetts, Joslin is the world's leading diabetes research, clinical care and education organization dedicated to the prevention, treatment and cure of diabetes. Joslin is an independent, non-profit institution affiliated with Harvard Medical School.
With a high prevalence of diabetes of 19 % in the region, TVM Capital Healthcare Partners is among the first to address the growing need in the United Arab Emirates (UAE) with diabetes-specific services through several of its portfolio companies. The partnership will support TVM Capital Healthcare Partners in its mission to develop healthcare centers of excellence in long-term care, rehabilitation and home care in the region, and encourage more MENA patients to be treated locally instead of traveling abroad for treatment.
The contract includes individual agreements on behalf of TVM Capital Healthcare Partners' three "Continuum-of-Care" portfolio companies in the field of rehabilitation, home care and long-term care. Specifically, Joslin will work with the Cambridge Medical & Rehabilitation Center and Manzil Health Care Services facilities to enhance their diabetes disease management programs by providing clinical protocols and guidelines, family/patient education resources and materials as well as an in-depth training program for professional staff. Joslin will also provide an education and training program for ProVita International Medical Center staff who care for ventilated patients with diabetes and related complications.
TVM Capital Healthcare Partners Chairman and CEO, Dr. Helmut M. Schühsler, said: "Diabetes care is an increasingly important focus for MENA healthcare providers due to the high incidence of the disease, coupled with a lack of specialized services. By partnering with the world's leading organization in diabetes research and clinical care, TVM Capital Healthcare Partners is able to offer unrivalled education and training to its staff who are delivering care in a number of settings across the portfolio companies. We believe this will help us to develop the facilities into centers of excellence that provide world-class care to MENA patients."
John L. Brooks, President and CEO of Joslin Diabetes Center, added: "We look forward to working with TVM Capital Healthcare Partners and its portfolio companies to bring state-of-the-art care to people with diabetes and related conditions in the region. It makes perfect sense to integrate diabetes management into the holistic care given to patients in the rehabilitation and home environments. Together, our combined disciplines will help achieve improved patient health and quality of life outcomes."
-ENDS- About Diabetes in the UAE The United Arab Emirates has been especially hard-hit by the world-wide diabetes epidemic, with its prevalence of diabetes, at 19%, more than double the global average. Furthermore, over one-third of people with diabetes and pre-diabetes go undiagnosed. With more than 16% of people in the UAE likely to have pre-diabetes, the UAE ranks 6th in the world, and without intervention, is projected to rise to the 3rd place at 17.2% by the year 2030. Diabetes can lead to many medical complications, including heart attack, stroke, blindness, nerve damage, kidney failure and poor circulation. Diabetes and its complications create significant economic effects as well, both in healthcare costs and lost productivity.
About TVM Capital Healthcare Partners
TVM Capital Healthcare Partners was established in 2009 under the name TVM Capital MENA and has since then been led by Chairman & CEO, Dr. Helmut M. Schühsler. The firm is focusing on making growth capital and small buyout investments from its first fund, TVM Healthcare MENA I, in healthcare companies in the Middle East and North Africa (MENA) and India that are or can become leaders in the regional markets. The company has assembled a strong team of investment professionals and healthcare operators as executives-in-residence in its Portfolio Operations Group who collectively have developed an ability to conceptualize and develop business opportunities in the target markets that provide investors with completely proprietary deal flow and investment opportunities. TVM Capital Healthcare Partners has broken new ground with four portfolio investments to date in specialized services that were either non-existent or drastically undersupplied, e.g., long-term care, rehabilitation, home care and world-class fertility treatment. The firm operates out of the Dubai International Financial Center (DIFC) and is licensed and regulated by the Dubai Financial Services Authority (DFSA). www.tvm-capital.com or www.tvm-capital.ae
About Joslin Diabetes Center
Joslin Diabetes Center, based in Boston, Massachusetts, undertakes diabetes research, clinical care, education and health and wellness programs on a global scale. Joslin is dedicated to ensuring that people with diabetes live long, healthy lives and offers real progress in preventing and curing diabetes. Joslin is an independent, nonprofit institution affiliated with Harvard Medical School, and is recognized worldwide for driving innovative solutions in diabetes prevention, research, education, and care. Joslin's mission is to prevent, treat and cure diabetes. Its vision is a world free of diabetes and its complications. For more information, please visit www.joslin.org
Media Contact TVM Capital Healthcare Partners
The PR Company
Samantha Armstrong
Managing Director
+9714 3042468
+97150 1582958
samantha@the-prcompany.com
Media Contact Joslin Diabetes Center
Jeff Bright
Director Marketing and Communications
(617) 309-1957
jeff.bright@joslin.harvard.edu