August 11, 2018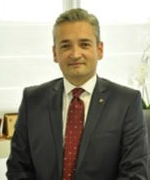 Mr. Anil Sugetiren has been appointment as Manzil Healths Regional Executive Director for Disease Management Programs and Telehealth Services.
Mr. Sugetiren has over 20 years of experience with a proven track record in sales and marketing, planning, developing and managing business service lines within the healthcare industry. Some of his achievements include contributing to opening the first Nursing Home in Turkey, launching Disease Management Programs and Telehealth Services in Turkey, working with the Ministry of Health to establish the Regulation of Home Healthcare Services and the Regulation of Disease Management Program and collaborating with the Ministry of Family and Social Policies to develop the Regulation of Nursing Homes.
Mr. Sugetiren holds a Bachelors of Economics, with a concentration in Business Administration, from Uludag University in Turkey and Ludwig Maximillian University in Germany. He has completed multiple Executive Education Programs from Harvard Business School.
Welcome him to the team Anil.