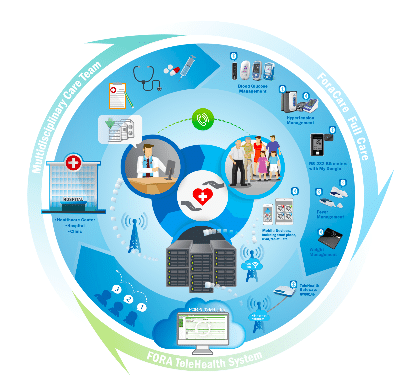 Manzil Healthcare Services now offer remote monitoring assistance, opening new possibilities in home medical treatment
Manzil Healthcare Services, leading provider of professional, individualized homecare and comprehensive Disease Management services based in Abu Dhabi with branches spread all over the UAE, now have further capabilities to remotely monitor and manage patients health and activities.Thanks to vast developments in technology and a collaboration with ForaMed, an established provider of innovative and secure health products and remote health solutions, Manzil can now offer much more to its patients.
Manzil began bringing medical services to the home since 2011 and now can do so without the need of a constantly present clinician. Remote medical services have grown in leaps and bounds, and the effects are now visible in the new types of services offered by Manzil. One of the new services that will be offered is the ability for patients with chronic conditions to be able to access their medical data with more ease while also helping care providers to remotely observe and guide the patient by giving readings on blood pressure, glucose levels, weight and other medical data. New developments at Manzil will allow healthcare practitioners to collect patient data immediately and securely and will allow them to respond to the patients condition accordingly. This could be incredibly useful for patients who need constant monitoring and immediate medical response in the case of an emergency. Patients suffering from diabetes as well as hypertension patients could benefit greatly from the remote medical services of Manzil.
Mr. Hazem Hamdy, President & Managing Director of ForaMed said: As we are committed to delivering high quality products, manufactured by world known manufacturers in line with global best practices, we are honored to join forces with Manzil Healthcare Services, a leader in home healthcare and disease management with renowned personalized services and respected international partnerships. ForaMed believes that people who are enabled by great medical technology and inspiring product solutions can achieve great things.
Dr. Sarper Tanli, Group CEO of Manzil Healthcare Services, added in by saying that: We are devoted to continuously improve the quality of life of our patients and their families by providing personalized support, care and therapy at the comfort of their own environment. As the largest standalone internationally accredited homecare provider in the UAE, as well as a comprehensive disease management company, we employ over 400 licensed nurses, therapists, and physicians providing, medical infusion, ventilation services, physiotherapy, as well as specialized care for infant, geriatric, and diabetic patients, and patients suffering from serious wounds. Our partnership with ForaMed provides with no doubt an advancement to our patients quality of life, in terms of remote patient care, independence, complications prevention, as well as minimization of chronic conditions total costs. With the help of ForaMed, Manzil now has the capabilities to bridge the gap between a doctors services and a patients self-management.