All You Need To Know About Covid-19 Testing
Throughout its start, Covid-19 testing has been one of the most important responses by the health authorities. Early testing can help in reducing the spread of the disease, identify infected cases, and start the treatment early on.
Are there any covid-19 symptoms you might be ignoring ? How can you protect yourself? And how can we help in testing?
Covid-19 Symptoms
Covid-19 symptoms can be different from person to person. For instance, some people might have a headache, while others may get diarrhea.
Once a person has contracted Covid-19, it can take up to 12 days to start showing symptoms. The average incubation period (time of infection till symptoms show) of the virus is 4 – 6  days.
The unpredictability of these symptoms is another factor that's adding to people's anxiety. However, we have rounded up all the common coronavirus symptoms that have surfaced up till now, so that you know when to take note of your symptoms.
For more information on Covid-19, check out WHO's updates here.
Symptoms You Might Be Ignoring
Loss of taste or smell (some people can lose both senses)
Diarrhea
Nausea and Vomiting: Like diarrhea, people don't associate nausea and vomiting with the Covid-19 and therefore ignore those symptoms. However, frequent nausea and vomiting are 2 of the most obvious symptoms.
Rashes or chicken pox-like rashes
Other Symptoms
If you experience 1 or a combination of these symptoms, then you should consult with your doctor.
Dry Cough
Shortness of Breath
Chills
High fever
Frequent episodes of trembling or shaking
Muscle pain
Sore throat
Also, if you experience some symptoms not mentioned above, consult with your doctor.
How To Protect Yourself?
According to the UAE Ministry Of Health and Prevention, follow these steps to protect yourself and your loved ones from Covid-19:
Wash your hands with soap and water or use an alcohol-based hand sanitizer. This will kill viruses that may be on your hands.
Stay at least 3 meters away between you and anyone who is coughing or sneezing.
Cover your mouth and nose with your bent elbow or tissue when you cough or sneeze. Then throw away the used tissue immediately.
Avoid touching your eyes, nose or mouth without washing your hands.
Avoid shaking hands and just wave.
Avoid nose-to-nose greeting, hugging or kissing others.
Avoid contact with animals (live or dead).
Take enough rest and take a large amount of fluids.
Also, masks are very important to protect yourself and reduce the risk of spreading the virus. How to wear a mask properly? Check out the infographic below.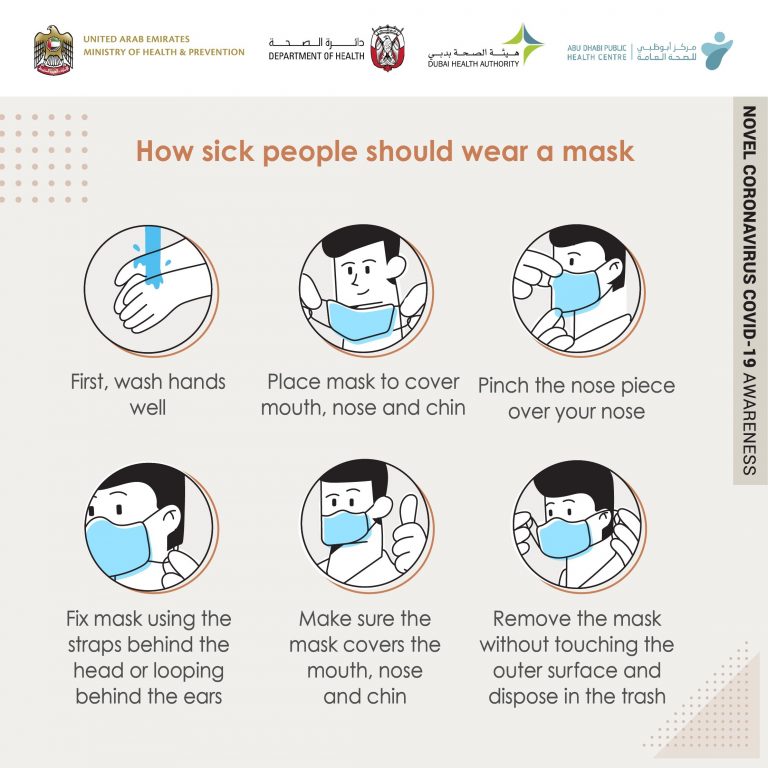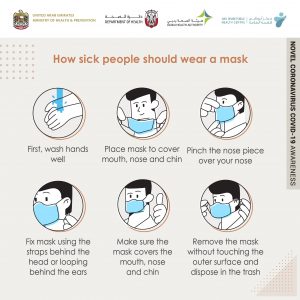 Source: UAE Ministry of Health and Prevention
Covid-19 Testing
Early Covid-19 testing is important to reduce the spread of the virus.
What if you can complete the testing at your preferred location? Now you can!
Our skilled nurses will perform the testing at your home or office following strict precautionary measures.
Read more about how we ensure your safety during testing here.
To ensure the safety of all the individuals involved, these are the precautionary measures to be taken:
Ensure that your hands are washed thoroughly and there is somewhere that you can sit comfortably while the sample is being collected.
Our nurses will be wearing the complete Personal Protection Equipment (PPE) and guide you through the easy nasal sample collection.
The results will be sent to your email within 48 hours. If the results were positive, you will receive a call from our doctor. He/She will guide you through the safest way to self isolate at home and manage your symptoms.
To Wrap Up
The development process of the Covid-19 vaccine is in progress. However, until the process reaches its final stage we recommend following the health precautions to avoid getting the virus.
Testing is very important to reduce the virus spread, and we are ready to support you on that. Contact us now to know more details about our Covid-19 testing service. Stay safe!
Don't Miss Out!
Have questions about our Covid-19 Testing Service? We are ready to answer!
Our call center is open for bookings from Sundays to Thursdays, from 9:00 am to 6:00 pm. You can reach us on the below channels:
Toll-free number: 800 MANZIL (626945)
WhatsApp: +971 56 548 9691
Fill out the contact form here.